MAD PAINTER NEWS AND REVIEWS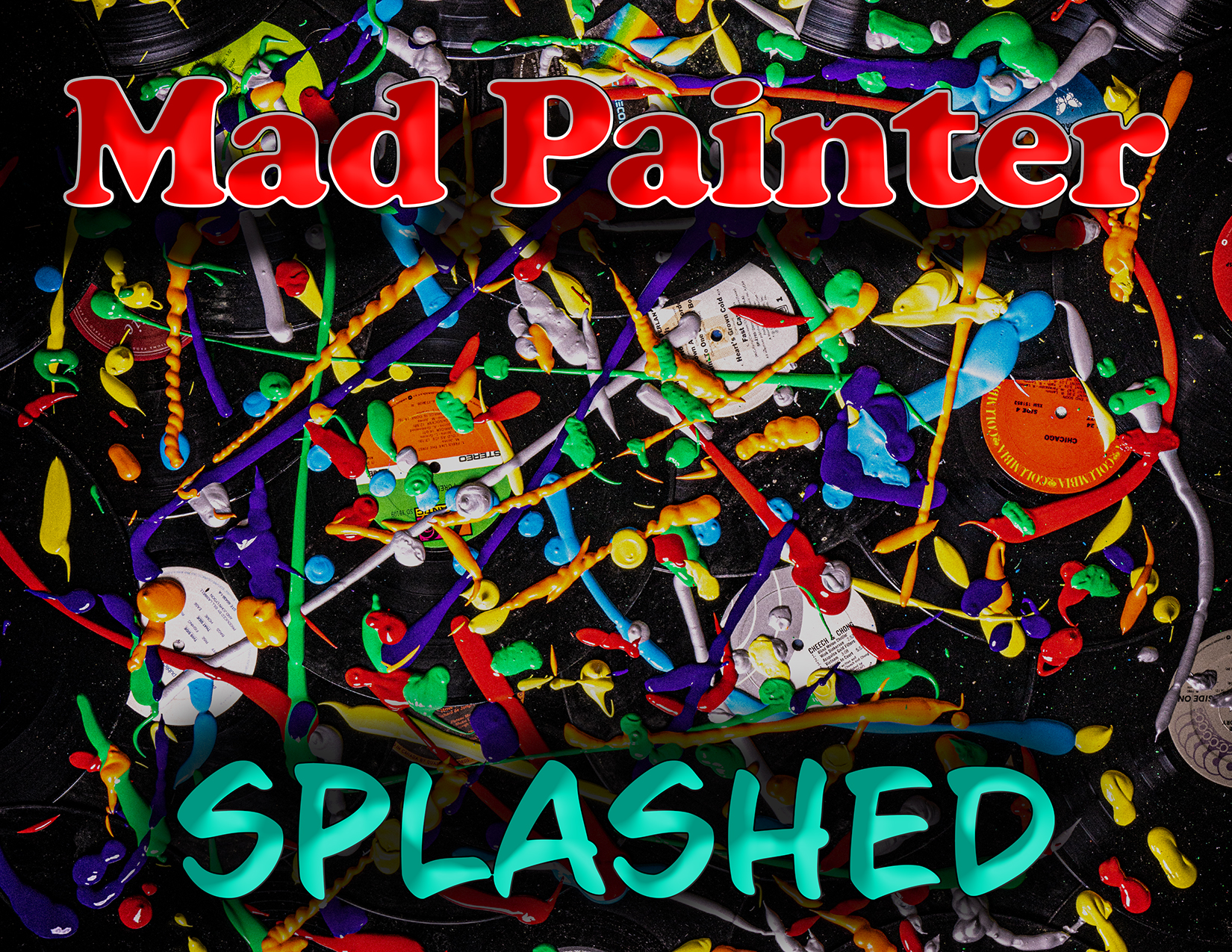 Our new album, Splashed, is out March 15, 2023 in physical form (CD) as well as on all streaming platforms. 
Order digital download or CD here!
MAD PAINTER
Title: SPLASHED
Label: Epictronic
Playing time: 70:44 minutes
First, the designer of the cover deserves defeat. You can't just dump buckets of paint on your record collection like Jackson Pollock. The designer describes exactly what can be heard in a very pictorial manner. The quintet from the Boston area picked up a few old records and used them to create their very own sound.
And this sound is quite colorful. There are a lot of things that we haven't been able to hear for a long time. Head and singer Alex Gitlin also shines, especially on a squeaky, colorful pig organ that seems to have been stolen from Uriah Heep's warehouse. Guitarist Alan Naha especially loves the fuzzy sounds that can be elicited from his instrument. Bassist Kenne Highland and especially drummer Alan Hendry ensure a swinging, fresh groove. There are also some backings from Julie Gee.
And again and again you get the feeling that the five of them have remained flower children since their childhood. Since "Pet Sounds" and "Sgt.Peppers Lonely Hearts Club Band" they haven't discovered much new music. Since 1966 the rock world has virtually stood still for them. But that's exactly what makes MAD PAINTER and "Splashed" fun. There's little choice but to rock out to the fast 'River'. There are also more blues-rock numbers like 'Parting Line' or 'Stealin', which would certainly have sounded so good in 1966.
On the other hand, the organ run in the single 'Samurai', nay the whole song, would have complemented 'Salisbury' wonderfully. But Alex and his cronies can also do ballads. So the wonderfully sad, heart-melting 'Lie To Me', which proves that tearjerkers don't have to be anemic and powerless. And I certainly buy the claim 'I Live For Love' from the crazy painter. Sometimes you even seem to hear French chansons in Boston. Or why else does 'San Michel' sound so Francophile?
But please, with all praise, don't dump paint on your record collection again.
Mario Wolski gives it 8 out of 10 points
bluesbunny.com reviews Splashed
You don't often get an album that sounds like it was recorded before yesterday yet that's exactly what "Splashed" by Mad Painter is. An album that, whilst of this time, sounds like it is of another, nearly forgotten, time and place. 
I shall explain. Mes enfants, there was a time when rock music had evolved into a heady mix of musical complexity and intelligent, often poetic, lyrics and those were indeed the halcyon days of tour buses and substance abuse but, lest we forget, the music was always the key to the door. Now, with the music released from an extended stay in rehab, we are currently blessed with the soggy squibs of hard rock and death/melodic/udon noodle metal but, fortunately for us, we now have these seventeen songs from Mad Painter that throw all the stylistic keys from those rose tinted days of yesteryear into the Ikea brandy glass and start up some serious organ swinging. 
The lyrics betray an acerbic sense of humour with some decidedly theatrical overtones taking these songs well past the showtune stage and right on into the ironworks. You can't pull off songs like these without some serious musical backup and that is indeed present with all those crochets and quavers – cheesy, of course – being knitted into the kind of sordidly syncopated sweater that is not just for Christmas. 
I'd call "Splashed" diffidently quirky and, in a way, this album is like all those Rick Wakeman albums that you got for much cheapness from the local charity shop. You know that it isn't trendy to like them but no rational person could ignore the fact that the music contained therein is both clever and entertaining. Boom, boom, pass the bong as the fox used to say. 
Best song: "Samurai" 
Verdict: Amuses the ears longtime.
Mad Painter are being signed to Epictronic
Mad Painter are being signed to Epictronic, an Italian label, for the release of their new (sophomore) album, Splashed!  The album combines heavy rock anthems 1970s style, inspired by the music of Uriah Heep, melodic and bluesy ballads, retro pop - a veritable variety  guaranteed to please different kinds of taste palates. 
The album was recorded during and after the pandemic lockdown, when there could not be more than three persons gathering in the studio at any given time. It took one year to record and another year to mix and master the 17 tracks on offer. The oldest ones, I Don't Know, A Friend In France and Lie To Me, date back to 1997,  way before Mad Painter was born. They were demoed by Alex at the time and shelved for close to a quarter-century, to be revived just now. You Nearly Stole My Heart Away was  written in 2011, and it's meant as a breezy Al Stewart-type tune, although the rhythm pattern is closer to the Zombies "Time of the Season". That's a perfect example of an  evolution of an idea from its embryonic phase to a complete Painter track. Everyone in the band has equal input into the process of arrangement. Illusion and Rock And Roll Samurai were written by Dmitry around 2017 and rehearsed by the earlier lineups of Painter, but didn't make the cut on the debut album. This time,  not only have they become the two key singles on the Splashed album, as well as the promotional videos, also they've evolved to represent the signature Painter sound. There's orchestrated balladry in I've Been A Fool and I Live For Love, both leftovers from the first lineup of the band, as well as pop in the style of early 80s, Love Is Gold. The biggest inspirations for this one were ABBA and Elton John. With all this variety on Splashed, Mad Painter are determined to stick to their signature style and continue creating  heavy rock, driven by organ and guitar, with the main influences ranging from Deep Purple and Mountain to Argent, Bloodrock, Procol Harum and the Small Faces. The recording sessions for the followup to Splashed are already underway.
METRONOME MAGAZINE AUGUST 2023 INTERVIEW
Fireworks Magazine June 15, 2023
Splashed reviewed by TJPL News
MAD PAINTER feature in Power Play UK